Is the Digital Troop the Next War Winning Technology?
Drones are changing how battles are fought in Ukraine, but what will change tomorrow's war?
Having seen the influence of uncrewed drones on the war in Ukraine, no one can be in doubt that autonomous and robotic systems have become indispensable elements of the battlefield.
While the US military remains the number one spending and research power in this sector, the experience that the Russian and Ukrainian armies are gaining has also placed them as leading drone developers.
However, perhaps the fourth most influential country for drone technology is Turkey, whose Baykar drones have made such a huge impact in Syrian and more recently Ukrainian battles.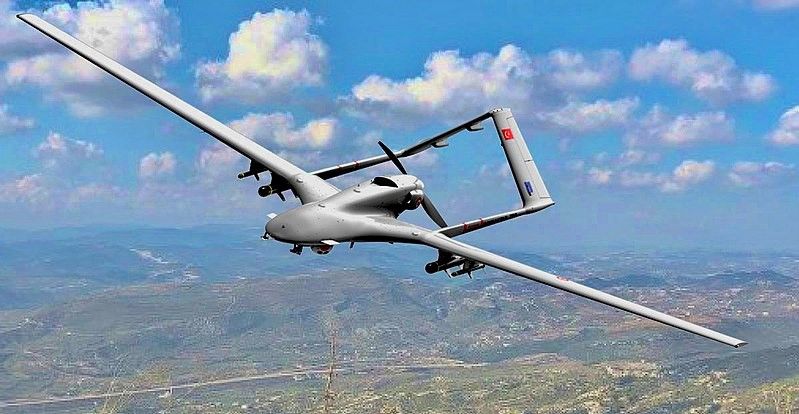 However, a more futuristic vision for how drones will work in next-generation conflicts is being created where diverse types of uncrewed aerial, land, and sea vehicles work together in an autonomous system being called a Digital Troop.
What are Digital Troops?
The Digital Troop is a concept where uncrewed systems and soldiers work together on the battlefield with an autonomous command centre which is able to manage the battlefield and make strategic decisions thanks to the combined information they gather and receive. This technology will enable battlefield activities to take less time and be more effective.
The idea consists of three main pillars:
· An integrated autonomous robotic system of unmanned drones in the air, on land, and at sea, combined with human soldiers all united via a command-and-control centre.
· Training and battle preparation through the use of high-tech simulations.
· Wearable technologies that help soldiers more easily carry heavy loads, move faster, and use heavier weapons. For example, a mechanical, skeletal structure could improve movement rates or carry loads tenfold, while simultaneously communicating with teammates and uncrewed systems, assigning objectives as well as sharing location information and tasks.
Making the Digital Troop a Reality
Work has already begun by the Turkish military research company Havelsan with year-on-year progress being made.
"In 2020, the design and development studies of the unmanned ground vehicle Barkan were conducted, the first power supply was provided and the first run was conducted at the end of the year," explains a company spokesperson. "In the same year, the first design and development studies of the Baha sub-cloud [low altitude] unmanned aerial vehicle began, and the first test flight of Baha was conducted five months later."
Then in 2021, further tests saw the launch of its uncrewed ground vehicle and drone swarm technologies, with a later task group working on sub-cloud drones in 2022.
Digital Troop Testing
More recently, Havelsan conducted a field test which included two Baha sub-cloud uncrewed aerial vehicles, two Barkan uncrewed ground vehicles, and a swarm consisting of five drones.
Mehmet Akif Nacar, General Manager at Havelsan, said the assets successfully performed all their tasks during the scenario. Explaining how two Pioneer drones provided aerial surveillance and guided the unmanned ground vehicles to identified targets, while the swarm provided reconnaissance. The entire operation was controlled by a so-called Mixed Swarm Operation Center.
"This stage was one of the most important milestones we wanted to achieve in terms of digital forces and swarm technologies," said Nacar. "In the future systems, we will continue to develop this ecosystem by working on different scenarios -- scenarios where more unmanned aerial vehicles, unmanned ground vehicles and swarm drones can be used, and where multiple drones can operate simultaneously."
What are the Advantages of Deploying a Digital Troop?
Increased safety for soldiers
One of the most significant benefits of a Digital Troop is that they will reduce the number of soldiers put in harm's way. Uncrewed systems enable humans to operate from a safer distance reducing the risk of injury or death from enemy fire, landmines, and other ordinance.
Improved efficiency and cost savings
Digital Troops are also more efficient and cost-effective than traditional vehicles. They can operate for longer periods of time without the need for rest or supplies. They do not require food, water, or medical attention, and primarily, they are more expendable.
Enhanced capabilities and versatility
Digital Troops could provide an improved view of the battlefield through its diverse capabilities. Uncrewed vehicles can carry supplies and equipment, aid artillery correction, as well as giving ground troops strong fire support.
Increased precision and accuracy
Through its central command centre, uncrewed systems can move together with extreme precision and accuracy, making them ideal for a range of military operations, even in difficult weather and/or terrain.
Reduced risk of human error
Human error is a common cause of accidents and mistakes in military operations. Digital Troops can help reduce the risk of human error by removing or reducing the human element from the equation.
The discovery of battlefields with fewer human soldiers will play a crucial part in the development of a new defence strategy. It is a vision that is focused on systems will be able to conduct tasks, communicate, identify the most effective mission plan, and carry out a revised plan independently in the field.
As more and more modern technology is integrated into military units, it is expected that Digital Troops will lead the way in shaping the battlefields of the future and changing the concept of war.
---
Photo credit: Wikimedia, Vecstock on Freepik, Gencraft, Macrovector, & Gencraft